Free Facebook Liker App
Level up your Facebook post engagement and your Page likes with the best Free Facebook Liker App and get the privilege of free likes and followers by earning coins. The likes and followers are completely natural and organic.
Instant Results.
Fast Likes and Followers.
Genuine Likes from Real Profiles.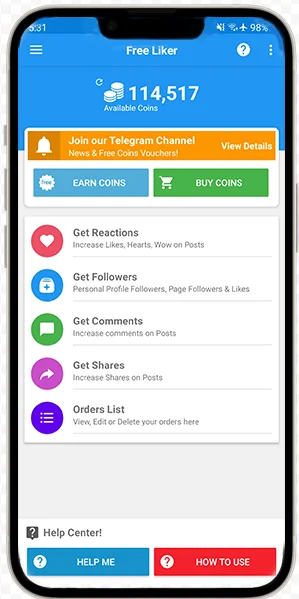 So, we are here to present the Free Facebook Liker App which helps you in boosting and uplifting your Facebook likes and engagement without even spending a penny. All you need is to invest your time and like and follow other pages to earn coins and as result, you will get likes by simply coping the link of the post and pasting it in the Free Facebook Liker.
Our Services
Free Liker helps you to increase your Facebook like improve your company's performance. We deliver real likes and follower and Here is the following services we provide to our users.
Steps to get Free Liker App
Download Android App
First of all you have to Download and install Our Free Facebook Liker App
Signin with Google
Sign-up with google ac and start earning coins to get free likes and followers.
Earn Coins
Earn coins for free or you can also purchase coins as well to save time and get instant likes and followers.
Why Free Facebook Liker App
Sometimes when you don't have time but still want followers and likes then we are here to solve your problem. We provide you with the auto likes and followers option so you can purchase coins and convert them into likes and followers.
Easy process

No risk of losing likes and followers.

Earn coins and get instant likes and followers.

Buy coins and automate the process.

Daily surprises and prizes.

No security issues or access to the page or account.

You can also earn extra coins by doing some activities and get coins that will automatically convert to likes and followers.
So, what are you thinking? Go and avail the opportunity of getting free Facebook likes now and boost your digital presence.